ASEA Power Systems Named Winner Of Export Excellence Award At IBEX
ASEA POWER SYSTEMS NAMED WINNER OF EXPORT EXCELLENCE AWARD AT IBEX
ASEA Power Systems was named winner of the 2019 International Boating Industry (IBI) Export Excellence Award at the International Boatbuilders' Exhibition and Conference (IBEX). The IBI Export Excellence Award recognizes US companies with commitment to and growth in international business. An extensive distribution and support network coupled with a comprehensive understanding of individual market segments around the globe made ASEA stand out against the competition. ASEA is successfully serving diverse regions, from the island harbors of Southeast Asia to the bustling shipyards of Italy.  
"ASEA Power Systems could have written the playbook when it comes to developing a successful export strategy," said Ed Slack, director of IBI., "ASEA took to developing specific new products to spearhead its growth into new markets."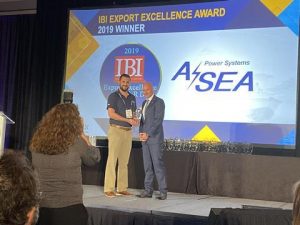 ASEA Power Systems currently serves 41 countries worldwide with international exports accounting for 65% of overall revenue. In addition to growing it's base, the development of ASEA's DBT line has allowed the company to capture significant portions of the smart, boosting isolation transformer market abandoned by Charles Industries in late 2016. 
Kevin Moschetti, CEO of ASEA Power Systems' parent company Mission Critical Electronics, commented:
"On behalf of Mission Critical Electronics, we are honored to accept this Export Excellence award from IBI. We have worked hard to build trusted relationships with our international customers and channel partners. These partnerships have been the key element in growing our export business.  But none of this would be possible without the amazing team we have built in our ASEA Power Systems business. Their undying commitment to customer satisfaction is the foundation on which all of our business is built."
Moschetti also said the firm will be further expanding its global service network to ensure world class support for boaters and boat builders in every region.
For media inquiries and other information, contact Kenady Beaudoin, Marketing Specialist, ASEA Power Systems at kenady@aseapower.com. 
About ASEA Power Systems: ASEA Power Systems is a brand of the marine division under Mission Critical Electronics, LLC. MCE's Marine Division  provides integrated electrical power systems and connected sub-systems for the Marine Market via the Xantrex Marine, Newmar DC Power On Board and ASEA Power Systems brands.
About Mission Critical Electronics LLC: Mission Critical Electronics LLC. as a whole represents a platform of distinctive brands and products focusing on industrial electronic and electrical applications where durability, reliability, and performance in hostile environments is essential. MCE's mission is to keep the world energized and ready by delivering power solutions where quality and responsiveness matter.
Contact ASEA Power Systems, 15272 Newsboy Circle, Huntington Beach, CA 92649, USA. 1+714-896-9695. www.aseapower.com.